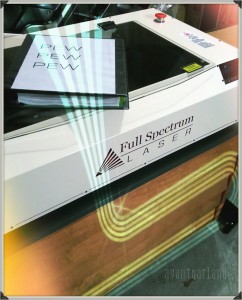 This page is to help answer your questions about my small business. My online shop is currently in beta as I not only do my own designs and jewelry making, but I am also my own WordPress webmaster. If you are having trouble checking out or are experiencing difficulties, please contact me and I can send you an invoice.
All items are designed and made by Garland on her laser, PEW PEW PEW! Hey, that's me! Read my bio here>>
With my laser cutter I can cut or engrave designs on a variety of materials from old records and reclaimed wood to cork to clear or colored acrylic. Because of the variety of materials available to work with, laser cutters are fun to experiment with.
Do you offer custom?
Just looking for an item in a different color or in bulk? That's easy, but you guessed it, contact me!
So you want to make something special or setup a print-on-demand custom label? Special requests and custom orders are welcome. Some custom items will require a deposit or payment in advance.
Custom laser cutting takes approximately 4 weeks to setup the design files, order materials, cut and finish, depending on your order. Vector files are preferred in PDF, SVG, or EPS formats. A fee will be charged for file conversion of non-vector art.
While having the benefit of a laser cutting machine is nice, creating a print on demand setup involves sourcing, setting up artwork, cutting, assembly and finishing while working within the limitations of the machine or compatible materials available.
The customization process varies widely depending on the materials or type of job. To create your own custom product line or large piece order (over 12 items), please allow at least 30 days. Smaller projects will require an individual time estimate based on current work load. We reserve the right to extend the turnaround time based on availability of materials or size of job.
Know someone who is a designer? We can work together to create your item. Talk to your digital designer if you're interested in collaborating and get in touch. Let's make something!
What are your purchase, refund and exchange policies?
If there's a mistake in your order, please contact me immediately! I will review your purchase and see what I can do to fix it.
Shopping cart payment is through Paypal, if you would like to purchase by check, please contact me for a mailing address. Your item will be shipped after payment is received. If another form of payment is preferred, contact me to see if I can accommodate your needs.
Lasercut jewelry can sometimes have sharp edges or be easily swallowed, please keep away from small children.
If you are unhappy with your purchase, please contact me!
All sales are final. Returns are handled on a case by case basis.
I offer an exchange or refund if your item is defective or breaks. Please contact me before sending back your jewelry so I can be aware of the issue. I will provide you with a mailing address for you to send your item back and make note of your return.
Shipping
Shipping options are setup through Paypal and include Economy, USPS Priority Mail and International shipping with USPS. You can also select local pickup using the 28205 zip code and I'd be happy to meet you in Plaza Midwood!
NOTE: Shipping outside of the US may take 3-4 weeks due to customs and Avant Garland is not responsible for any duties imposed by customs. I am currently not setup for automatic shipping options for out of mainland USA but you can select local pickup using 28205 zip code when checking out to negate shipping charges during your purchase and then send me a message. I will invoice you for your shipping charges separately.
Do you believe your item was lost in the mail? Contact me as soon as possible. Store credit or replacement of your item will be handled on a case by case basis.
If you would like to ship your item as a gift to another person, please specify when placing your order in the notes and I will be happy to accommodate your gift purchase needs.
[/toggle]
Still have questions?