RAW: Visionary Showcase
January 15, 2015 @ 7:00 pm
$15.00
Event Navigation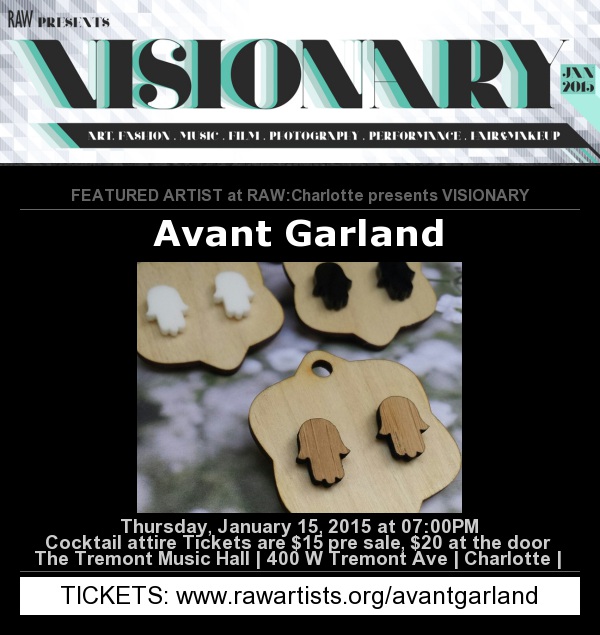 Ready to get a couple of tickets? Get them here>>
I'm getting super pumped for the RAW CHARLOTTE Presents VISIONARY showcase show on Jan 15. Working on spiffy new displays that you have GOT to see in person! Music, art, performance, and tons of creatives to network with. Don't miss out on the fun.
I'm so excited to be a part of the showcase which is presented by RAW: natural born artists, but I need your help!
The event will be held at Tremont Music Hall (400 W Tremont Ave) on Thursday, January 15th @ 7:00pm. The event is 18+ and the dress code is cocktail attire. I'll "be eligible to win the RAW artist of the year award locally, and have an opportunity to compete against other city winners for the national title to [showcase] at the RAWards award show & ceremony in LA.
PLUS I will have an opportunity to showcase again out-of-state at any other RAW location of my choice! (Mayhaps near you?)
All I have to do is sell 20 tickets to help promote the event. Your support would be greatly appreciated. The tickets are only $15 (the cost of a lunch!) and need to be sold by THURSDAY JANUARY 8TH @ midnight in order for me to participate. If you buy them from me you also save $5 because they go up to $20 at the door.
If you are not available to attend that night, you can still purchase a ticket to support me and my work. This will open up a guest list spot for me to invite someone from my Charlotte network to attend.
Ticket holders, local and out of town, can select a free pair of any of my stud earrings to receive at or after the event and includes shipping for those of you who don't live in the area. Please contact me after you purchase your ticket to order your free pair!
Consider joining the Facebook Event to help it gain visibility, sharing my ticket link on your social network or just giving me a shout of support back (I'm so totally nervous!). Thank you so much for your support, I couldn't do any of this without the love and support from each of you!
From the website:
RAW:natural born artists is an international independent arts organization that hand-selects and spotlights independent creatives in visual art, film, fashion, music, hair & makeup artistry, photography, models and performing art.

RAW's mission is to provide up-and-coming artists of all creative realms with the tools, resources and exposure needed to inspire and cultivate creativity so that they might be seen, heard and loved. RAW educates, connects and exposes emerging artists in over 60 artistic communities across the United States, Australia, Canada and the U.K. through monthly showcase events. Join us in celebrating the work of these artists.

RAW events are multi-faceted artistic showcases. Each event features a film screening, musical performance, fashion show, art gallery, performance art and a featured hairstylist and makeup artist. These artists are all local, hand-picked talent who have been chosen to feature at RAW.

RAW events feature a cash bar for cocktails while you enjoy the night. Dress code is cocktail attire, so dress the occasion and get ready for an artistic circus of creativity!